A crow flies into the circular picture (upside down) and settles (upside down) in the branches of an upside down tree. Plumes of pampas grass wave weirdly in the upside down breeze. This is the image projected by the camera obscura onto the wall in the downstairs cloakroom at Laurence Edward's Suffolk home – gentle, and almost lyrical. It is an image that would seem more appealing to a landscape painter than to a bronze sculptor whose working practice is, at times, brutal, strenuous and noisy.

It takes only 20 minutes to drive from this tranquil family home to his studio says Laurence Edwards. But however short the journey, it is enough to transport the visitor from idyllic family life in Suffolk to the savage elemental energy of his work and the brutal chaos of his sculptor's workshop. The sense of an idyll is not lost immediately for it is at the head of Orford Creek, with avocets and marsh harriers and unchanged English countryside all around him that Laurence Edwards has found his ideal workplace. From the windows of the almost derelict barns nothing man-made intrudes into the landscape of gentle slopes, water and sky. The scale of work needed to turn the huge, almost derelict barns, formerly used for drying and storing grain, into an environment where a colony of creative individuals might work together would have intimidated anyone else, but Laurence seized the opportunity to create the community he always felt to be necessary to his own creativity. After only a few months a group of workshops and studios have begun to take shape and Laurence and four other bronze sculptors are already working in the main building. There are ambitious plans for light-wells and revealed perspectives in the cavernous buildings. Only a bronze and iron founder could have the energy, and the ability to see the form within the mould that makes this project possible. Even so Laurence's own work is pretty much on hold while he sculpts the spaces needed for his dream to be realised.

Tell me how you began as a sculptor?
I was always good at art and school didn't suit me – I ended up with two 'O' levels. I didn't have an artistic background – my Dad worked in a bank, but my parents were very supportive and I found my feet when I went to Lowestoft Art College. Then when I was at Canterbury, sculpture appeared in the degree course. Foundry fascinated me, and I discovered that I wanted to be a sculptor. At the Royal College, where I did a post-grad course, I worked with Tissa Ranasinghe. His influence has been crucial, he taught me how to break the mental process of my work down and how to get through emotionally while still keeping the romance of making alive.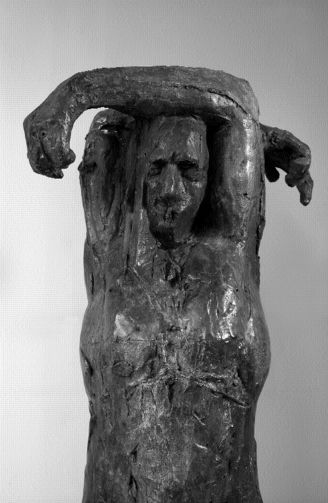 Which artists did you particularly admire then?
I think it's very misleading to answer that question, quoting names raises the wrong expectations about my work. I don't need to be referenced to others, or feel that you should constantly look back for my sources and influences. My work is my own. But I do work within a tradition and of course I can't deny the influence of the Renaissance and Egypt – museums are a great resource for any artist. I look at the work of painters like Titian and El Greco and the way they get figures to relate and create a psychological world in their canvases. I hope I have been able to make similar relationships and worlds between the figures in my castings. If you push me to name other sculptors though, I would have to mention Germaine Richier (1904–59) and of course Anthony Caro (1924–). He came to teach in college and if I learned anything from him, it was how to arrange forms and objects in space. Going back to the Renaissance, Donatello inspires me, not just because of his work, but because of his approach to it. He hung a basket in his workshop, and in it there was always money. Any member of his studio in financial difficulties had only to lower the basket and take money. It was a case of trust and be trusted. We don't do that, but we do keep a basket hanging and filled with drink! It's hard and thirsty work pouring bronze or iron. Anyone here can lower the basket and have a drink on us!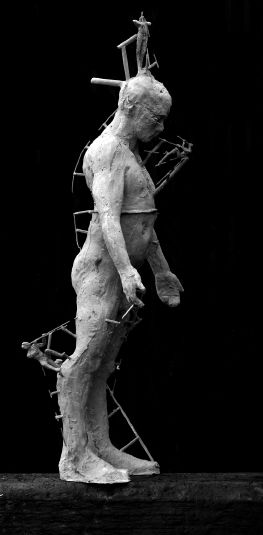 Do you work to commission or to satisfy your own artistic development?
I most enjoy working in collaboration and that's how I see working to commission, as a partnership between the client and the artist to reach a mutually satisfactory piece of work. I actually enjoy the negotiation which takes place for a commission. I used to be a lone-ranger doing lots of portraiture and casting for other people. Many sculptors create the piece but leave the mould making and the actual metal pouring to someone else. You could argue that the really creative part of bronze sculpting is in making the clay original, but I see the process right through; making my pieces is a continuous process from the concept to the finished object. For a young sculptor, casting for other people enables them to gain experience and make a living! Pouring like that is all very well and pays the bills but now I need to do my own stuff and I've cut down the amount of work I do for other people. I don't think I'm there yet – I'm in for the long haul, I've never been part of the firework display of some artists and I certainly don't want to be burnt out by the time I'm 50. This project, these spaces, creating the workshops and studios here is part of that collaborative process that feeds my own work. I used to teach a bit but I don't enjoy it so much these days. When students come in one day a week it's hard to keep your interest going. I'm much happier sharing my knowledge and skill in joint enterprises like the iron-pours.